We create CUSTOM SADDLES at J&S Saddle and Tack. We build high quality handcrafted custom western saddles for everything you can do on a horse. When we say CUSTOM saddles, we mean exactly that! They are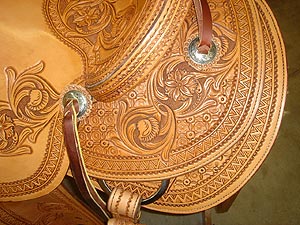 built on your specs – from tree, leather, tooling, etc. Our saddles are ridden by some of the best in the cutting, reined cow horse and roping arenas. No matter if you ride reiners, cutters, ropers, reined cow horses, barrel horses or just need a good ranch saddle – you will know you are riding the best when you ride a J&S!


Saddles need to fit the horse and the rider. At J&S SADDLE AND TACK we give you a "RIDDEN GUARANTEE" – we make sure that the saddle fits you AND your horses. Giving you a great ride no matter what discipline of riding you may be involved in.

In a day and age of One Size Fits All – we are intensely aware that ONE SIZE DOES NOT FIT ALL when you are talking about custom saddles. We help create the perfect custom saddle that allows you and your horse to perform at your peak. Cutting, Reined Cow Horse, Roping, Reining, or just "cowboying" will feel better and look better in your saddle from J&S SADDLE AND TACK!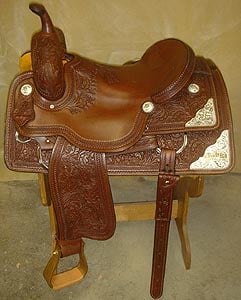 Our custom saddles are not created on an assembly line or with a lot of high tech equipment. We use our skill, expertise, and knowledge along with the skill of one highly qualified and experienced saddle maker to create saddles that are built to withstand the tough, rigorous work of cowboy life. An added benefit is that a custom saddle from J&S SADDLE also looks great......we have some of the most creative and intricate tooling, all done by hand! A great looking saddle along with riding in comfort!

J&S SADDLE AND TACK is owned by Jimmy and Suzy Watson. We are committed to building the best quality saddle that money can buy. We offer our custom made saddles to our customers at an affordable price. You can pay more but you can't buy better and you won't find a "RIDDEN GUARANTEE" anywhere else but at J&S SADDLE. You ride the saddle we custom design for you and your horse and we will make sure – even after your first ride – that it fits and is the saddle you want.
---
For more information or to place an order, please contact us today:

Jimmy & Suzy Watson
878 Riverwood Drive
San Angelo, Texas 76905

Email: info@jssaddle.com
(325) 651-6112
Jimmy's Cell - (325) 212-6196
Suzy's Cell - (325) 212-6721

We are located just outside of San Angelo, in West Texas.